Pfaff Quilt Ambition 630
Pfaff Quilt Ambition 630 Quilting and General Sewing
Comes with 5 year warranty, FREE first year service and a FREE Voucher for a days workshop at Crafticalia (courses available include Embroidery; Quilting and Patchwork, Dressmaking, Bag Making and Gent's accessories)
PFAFF® Color Touch Screen
Get all the sewing information you need directly on the Color Touch Screen.
Color LCD screen (95mm x 54mm, 3.7" x 2.1")
Resolution 480 x 272
The Original IDT ™ System
Original since 1968. The integrated dual feed from PFAFF® precisely feeds all types of fabric from the top and bottom for perfect stitching every time.
Large Sewing Space
The sewing area to the right of the needle is 200mm (7.87"), great for large sewing projects.
201 Stitches
Be astonished by the fascinating selection of PFAFF® high-quality stitches – unique embellishments, stitched perfectly up to 7mm.
Speed Slider
Adjust sewing speed on your PFAFF® quilt ambition™ 630 sewing machine for full control.
SEWING FEATURES
Needle Up/Down: Set needle to stop up or down in the fabric for pivoting, appliqué and more.
Twin Needle Program: Enter twin needle size to automatically adjust the stitch width. You can see the twin needle stitch on the screen.
Mirror Image of Stitches: Flip the stitch side to side and/or end to end for even more possibilities.
Stitch Width Safety: Limits stitch width to center the needle while using straight stitch accessories to prevent needle breakage.
Elongation: Lengthen satin stitches and entire stitch will be longer but density remains the same.
Thread Snips: Automatically cut top and bobbin threads, pulling thread ends to the back side of fabric.
2 Built-In Sewing Fonts: Choose from 2 sewing alphabets, with both upper- and lower-case letters, for easy programming.
Automatic Thread Tension: Optimal needle thread tension is set automatically for every stitch – makes sewing simple.
Bobbin Winding from the Needle: No need to rethread when winding your bobbin directly from the needle. Winding stops automatically when your bobbin is full.
Jam Proof Rotary Hook: No threads caught in the bobbin area.
29 Needle Positions: For exact placement of your straight stitch. Perfect for topstitching, edge stitching, under stitching, stitching-in-the-ditch or quilting.
Languages: Choose from 14 languages in the Settings menu to make sure your PFAFF® quilt ambition™ 630 sewing machine speaks the same language you do.
One-Step Buttonhole: With the One-Step Buttonhole Foot you can easily sew buttonholes with consistent results every time.
Hard Cover: Protect your sewing machine when transporting it. Dust free storage for your machine.
Free-Motion Sewing: Simply drop the feed teeth for free-motion quilting, thread painting or darning.
Inch/cm Ruler On The Accessory Tray: Convenient measuring directly on your PFAFF® quilt ambition™ 630 sewing machine.
Sequencing: Combine and instantly save up to 60 stitches and/or letters to be sewn as many times as wanted until a new sequence is programmed.
Accessory Feet Included: 8 different presser feet for all your basic needs.
Immediate Tie-Off: When pressed, the machine will tie-off and stop automatically for a quick and easy finish.
Built-in Needle Threader: Makes threading easy and reduces eye strain.
Start/Stop Button: Sew without the foot control – Makes sewing long seams, free-motion and buttonholes easy.
LED Illuminated Workspace:Optimized bright lights illuminate the entire work area with less shadows.

Extra Presser Foot Lift: Raises the presser foot to its highest position so that thick fabrics can be placed easily underneath it.

Info Button: Simply touch to see important sewing recommendations on the color touch screen.
Presser Foot Pressure: Can be adjusted when using specialty techniques or when sewing with varying fabric weights.
Look for similar items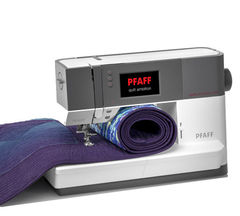 Property Types
| | |
| --- | --- |
| Brand | Pfaff |
| MPN | Quilt Ambition 630 |