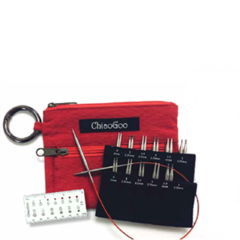 Chiaogoo TWIST 2" and 3" Interchangeable Shorties 2mm to 3.25mm
£
89
.
00
Chiaogoo Shorty TWIST 2" and 3" Interchangeable Circulars
Not only do Chiaogoo offer the world's smallest interchangeable circulars but now they offer the world's shortest interchangeables!
Ideal for knitting socks "in the round".
The 2" and 3" Interchangeable system, allows knitters to make 9" (23cm) to 25" (62cm) circulars using the cables and connectors in the set
The new short tips are available in the new "Shorties" set that includes:
Each set contains
Tip Sizes 3" (8cm) 2.0mm 2.25mm 2.5mm 2.75mm, 3.0mm 3.25mm Tip Sizes 2" (5cm) 2.0mm 2.25mm 2.5mm 2.75mm, 3.0mm 3.25mm Cable Lengths One each of: 5"(13cm), 6"(15cm) 8"(20cm) with mini connector Accessories Mini Needle Size / Rule, 2 x End Stops, 1 x Cable Connector, Stitch Markers (Pink and Yellow) Compatibility 100% Compatible with Mini Twist cables, tips and accessories Case Beautiful red pocket-sized fabric pouch.